TV Spotlight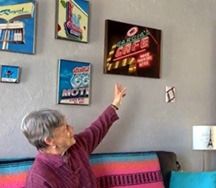 KRQE Channel 13 Albuquerque, NM (Interview may be seen on my Links Page)
"Albuquerque Artist Capturing Iconic Route 66 Signs Through Paintings"
I was interviewed by a local television station and also written about in the November issue on the internet of the "Route 66 News", a clearinghouse of news and events about historic Route 66 and have been delighted with the feedback I have received from these two exposures. Thank you to those who made this opportunity possible.
ROUTE 66 NEWS
In a time when Route 66 advocates are discussing the disappearance of historic neon signs, an Albuquerque artist has taken note of that issue and is doing her own small bit of preservation — painting images of those signs in case they vanish.
"My first project was an old drugstore painting sign on Central. I loved it because of the colors and I wanted to do it. I did it, I got it into a show, I got an award for it and I sold it," said Godin. "Then I noticed another sign on Central, the Aztec Motel, and the colors, once again, grabbed my attention. I went down there, did some sketches, took some photos." It was an ongoing project as Godin often works on multiple paintings at once. One day, she decided to return to the same spot of that Aztec Motel sign to jot down more details. "I went back to the sign, I went back to get more information, and the sign was gone," said Godin. "I thought that was odd." These bright, neon symbols of Route 66 were dimming as the old disappears to make room for the new. The Aztec sign would not be the only time this would happen to Godin. "I went on and started painting some other signs and I started traveling 66 in New Mexico," said Godin. "I'd go back for more information and the signs were gone. They were starting to disappear faster and faster." […] "I decided this was it. This is what I was going to do," said Godin. "I was going to record history in a small slice of America with my art so that future generations will be able to see how they were, how it was, the places those signs were at and what their parents saw when they were younger."
For now, Godin's paintings are of signs from New Mexico and Arizona, but she plans to expand the scope of her travels to capture more images of Route 66 neon.